Traveling in a luxurious class is what a passenger wants, but it comes with a considerable price. Flying with additional amenities and services like comfortable seats, priority check-in, baggage allowance, complimentary food and beverages, and many more. Thus, passengers can now enjoy all the benefits at a nominal price by booking a seat in a United premium economy cabin.
The airline also offers premium economy class, known as Premium Plus. The benefits and features of the class depend on the route. The United premium economy is available for long-haul international flights and premium transcontinental and Hawaii routes.
United Airlines Premium Economy – On-Ground Benefits
Passengers with Premium economy tickets on United Airlines offer services when the journey starts from the airport. From getting spa sessions, and lounge access, to priority check-in and baggage allowance.
Lounge Access
When booking with United premium economy, lounge access is not included. Passengers can access discounted united club passes for long-haul international flights to relax between layovers by using their Priority passes. However, these lounges are not similar to that of the United Business class. So, there is no benefit of a lounge with Premium economy unless the passenger is a United or Star Alliance member.
Priority Access
Premium economy passengers can get priority service if they have a premier access add-on. Generally, United Premium Economy ticket holders are not eligible for Premier Access benefits. However, if the passenger holds a Star Alliance Gold membership or United Elite status, they can get Premier access. Moreover, if they have a qualified United credit card, then they can enjoy priority access.
Add a Baggage
In comparison to regular Economy tickets, travelers have better baggage allowance on Premium Economy. Passengers flying on United Premium Economy get the advantage of carrying two checked baggage free of cost and reserve space for carry-on. This allowance is applicable for both domestic and international flights.
United Premium Economy – Onboard Features
While traveling on the flight, passengers can enjoy many amenities and services. There are several benefits while flying with United premium economy class with a selection of food to the seats.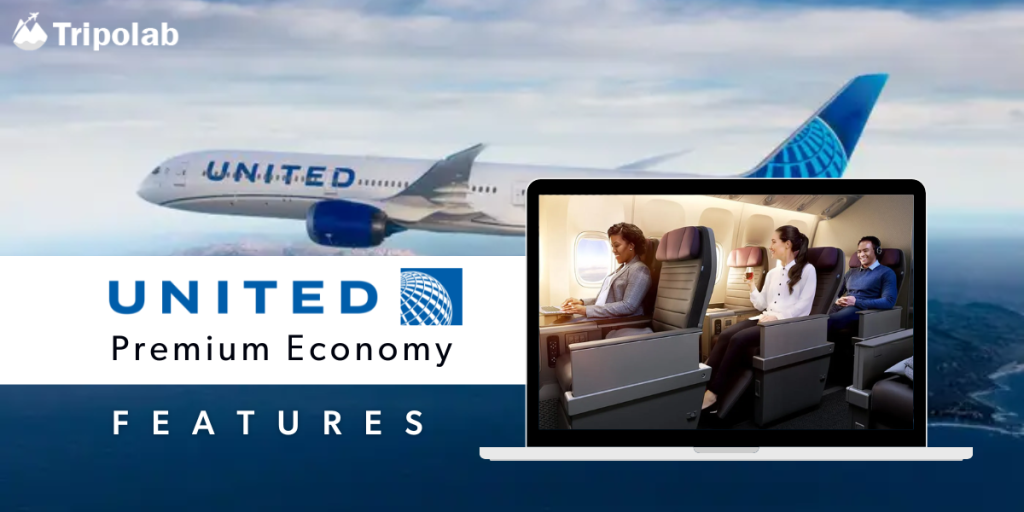 United Premium Economy Seat Review
The cabin seats are up to 19 inches wide and have a 38-inch seat pitch, moreover getting seven inches of extra legroom than a standard economy seat. The seats have a reclining option of up to six inches. Hence, the seats are closer to the front of the plane for passengers to board or depart the aircraft first. Premium economy seats have an adjustable leg rest, footrest, power outlet, and USB outlet. While traveling with a United premium economy seat, review the cost accordingly.
In-flight Entertainment
The seating category has a seatback screen of 13 inches, including noise-cancelation headphones. Thus, passengers do not get disturbed by neighboring noise.
Food and Beverages
United premium economy meals are complimentary for their passengers with alcoholic drinks. There is a variety of options to choose from for passengers in United premium economy traveling on international long-haul flights.
Amenities
Passengers will get a Saks fifth avenue blanket and a pillow with an amenity kit. The amenity kit includes Sunday Riley hand cream, lip balm, earplugs, toothbrush, Colgate toothpaste, socks, an eye mask,
Methods to Book United Premium Economy Tickets
Passengers can book their tickets with United Premium Economy through online or offline processes. This category is available for select international flights.
How to Book Premium Economy Ticket Online?
Visit the official website of United Airlines.
Select the desired date with time and destination.
Make sure to choose premium economy cabin class from the option.
If a passenger is booking with miles, choose Book with miles.
Search for flights.
Review the flight cabin selection, as many connecting flight does not offer premium economy.
Choose a seat according to the requirements.
Pay for the booking, if passengers do not have miles
After completion, a confirmation mail will be sent to the mail address.
How to Book Premium Economy Seat via Offline Process?
Passengers who are not comfortable booking tickets online can call the customer care number of the airline. The executive will guide the process. Share with him the travel details, including date, time, destination, and number of passengers. Choose the premium economy category from the option. Pay for the booking, or if a passenger wants to book through miles, please confirm this with the executive. After completion of the payment, a confirmation mail will be sent to the mail address.
Ticket Price for United Premium Economy Category
United Airlines have a premium economy category for long-haul international flights and some of the select intercontinental routes. The price depends upon the destination and date of the travel. Therefore, passengers can also book their tickets and upgrade the United premium economy from economy class through miles.
Miles would cost around 70,000 from San Francisco to Paris in a premium economy, whereas for economy tickets, 45000 miles.
Ways to Get Discounts on United Premium Economy Tickets
Grab a deal with Miles
Passengers can enjoy their trip without spending their money on booking with miles. The airline provides excellent offers for their members, and passengers also get reward points which can be redeemed for further trips. For instance, a flight from Los Angeles to London would cost around $2248, whereas booking with miles would cost 30,000 miles with a valuation of 7.6 percent per mile.
Book with Airlines Partners
United is a Star Alliance, Avianca LifeMiles, Air Canada Aeroplan, and Singapore Airlines KrisFlyer member. Passengers may find an incredible deal while booking with them too.
Travel during off-peak
The miles requirement for award flights depends on the demand of the flight, destination, and many other things. Thus, traveling off-season would benefit from many offers.
Benefits of United Premium Economy
If you are still confused about the United Premium Economy class, here is a summary of the benefits you will receive in the cabin.
Cabin class is closer to the front of the aircraft
Wider seats with reclining facility compared to regular economy.
Power outlets and USB charger.
Amenity kit.
2 free checked baggage.
Premier access boarding add-on.
What is the Difference Between United Premium Economy vs. Premium Plus?
The airline has various class options for their passengers, the Premium economy class offers extra legroom, and seats are at the front of the standard economy class. The legroom in the case of Premium Economy seats is 31 inches. However, when it comes to Premium Economy Plus seats, the legroom is 37 inches. Premium Economy seats are available on all routes. At the same time, Premium Plus is available only on long-haul international and transcontinental flights.
Is the United Premium Economy Worth it?
United's premium economy offers spacious seats with ample legroom, multiple reclining options, and a prime location near the front of the aircraft, providing convenient access during deboarding. In addition, premium economy passengers can enjoy delicious food and alcoholic beverages, as well as priority access to airport services. These are the same features provided to business class passengers, making the upgrade to the premium economy well worth it, especially given the affordable pricing.
Related Posts
Frequently Asked Questions
What is the United premium economy?
United's premium economy category is somewhere between the business class and economy class. The premium economy provides services like upgraded meals, more space, comfortable seats, and free check baggage. But when it comes to the price, it is not as much of a business class.
What will I get while traveling in United Airlines premium economy?
There are many benefits of traveling in a premium economy category, including:
More spacious seats
Cabin seats are closer to the front of the aircraft
Power outlets
Priority airport access
2 checked baggage free of cost
Discounts on United Club passes
What is the difference between the United premium economy and the economy?
There is a significant difference between the two categories. Premium economy seats are 19 inches wide and have a 38 inches pitch, with more legroom space than the economy class has.
How to avail advantages of miles?
Booking with miles gives a great offer on the flights. The points credited to the United Airlines account can be redeemed for flight booking. Passengers can book their tickets with miles and have to pay taxes and fees.
Does United premium economy get lounge access?
No, United Airlines do not include lounge to premium economy. However, travelers can buy lounge access while traveling on a long-haul international flight.
How much is the ticket price for the United premium economy?
The ticket price depends upon the date and destination of the passenger. However, it is not too expensive than economy class. One can expect a 30% increase in the ticket price value.
How many bags are allowed in the United premium economy?
The airline has a 2 free checked baggage allowance in premium economy class. On the other hand, regular economy ticket holders have to pay for checked baggage.
What all amenities do we get in the United premium economy?
The amenity kit includes Sunday Riley hand cream, lip balm, earplugs, a toothbrush, toothpaste, socks, and an eye mask. Also, passengers will get a Saks fifth avenue blanket and a pillow.
Can I upgrade my United premium economy?
Passengers can upgrade their premium economy class in United Airlines to any other category. They have to call the customer care number of the airline to make the changes. Else, passengers can make changes by visiting the official website and navigating to the Manage My Booking options.
Does the Premium Economy ticket holder get priority access?
No, Premium Economy ticket holders do not get priority access. They can get access only if they are Star Alliance members or possess a United Elite status. They also have the option of buying premier access.